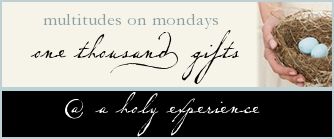 {2,065-2,077}
-Valentine's Day roses
-This verse:
Do not move an ancient boundary stone
or encroach on the fields of the fatherless,
for their Defender is strong; he will take up their case against you. Prov. 23:10-11 I am learning how God defends us. I am learning to trust Him in this.
-A son that loves reading
-Looking at new curriculum for next year
-Jury duty (I will have it soon...I don't like it, but trying to be thankful for it.)
-Great Spanish lessons with my students this week
-Peace that passes all understanding in my circumstances
-New books for my Spanish students
-Mocha creamer (saw this in the store for the first time...yum!)
-Puppy pictures of Titan...such fond memories
-Meeting a retired couple in my neighborhood that just got a mini schnauzer. They loved meeting Titan!
-Listening to one of my former Spanish students talk about his trip to Chile, Peru and Argentina.
-Learning that my "Argentine family" will be up for a visit soon.