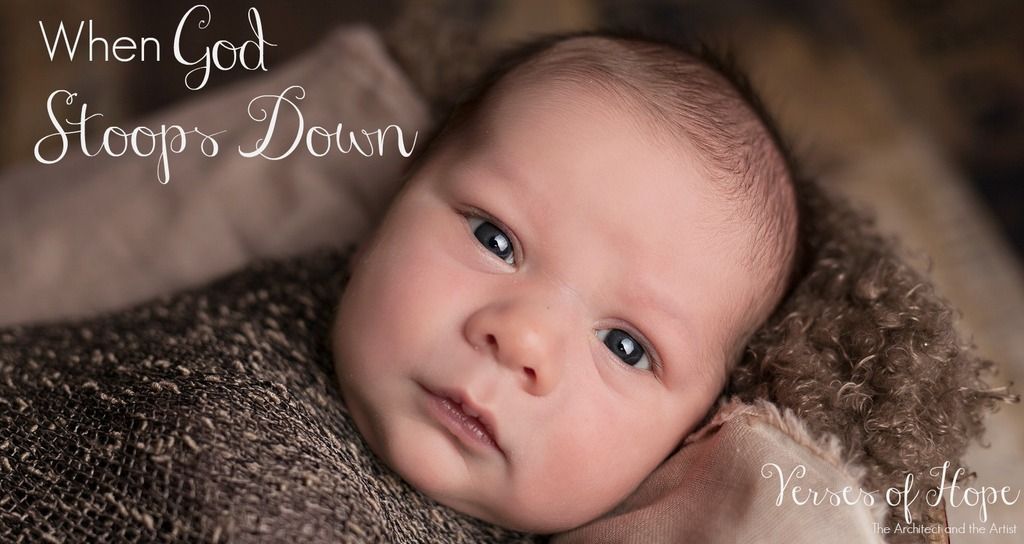 You give me your shield of victory, and your right hand sustains me; you stoop down to make me great.
Psalm 18:35 (NIV 1984)
A few weeks ago my youngest son was memorizing a set of verses in Psalm 18. When he got to the last one my heart stopped. God stoops down to make me great?! Who does that? Our normal mode of operation is to make ourselves great. Even when we think we are being self-sacrificing sometimes we are not. Sometimes we sacrifice to make our names great. Not so with Christ.
Christmas, the coming of Christ, is and always has been about God stooping down. The God of glory trading in His status, His position, His comfort so that He can live among us, the wretched. Once again I ask, "Who does that?!" We were the ones who messed ourselves up. We are the ones who can't hold ourselves or anything together. We are the ones that need Someone to stoop down and lift us from our pits. So God quietly slips out of heaven and enters our world...not as a person of wealth, power, or prestige. He comes as a helpless infant to help the helpless. He leverages all that He is and has to prop us up. The thought of it humbles me.
Hope is the reach of our hearts for the cure. -Cornelius Plantinga
This season is one of hope. In a world gone horribly wrong where hurt and heartache reign God knew we needed hope and healing. He also knew we couldn't provide it for ourselves. Hope finds it home only in Him. He is the only One who can heal our broken pieces. He is the One who can put us back together no matter how shattered we are. The Baby bends down to pick up our pieces and make us beautiful again. We can have hope because we have Him.
If this season you are feeling broken go to the One that made Himself little to make you great. He loves you and would do anything for you. He is your hope!
Need more hope? See all the
Verses of Hope
I have collected this year. Also, if you are needing hope may I also suggest this devotional,
Wait Only Upon God
. I read it earlier this year, and it changed the way I look at hope and waiting on Him. Even though I may not know you I am praying that in this Christmas season you find hope...you find Him.