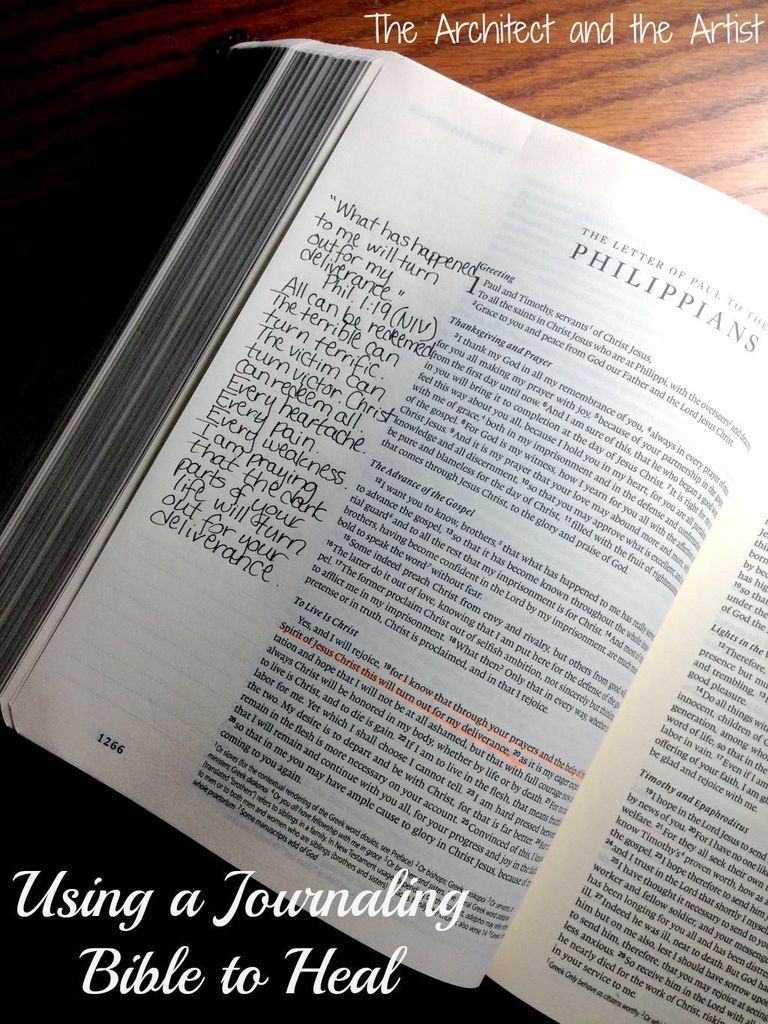 {Affiliate links used.}
Journaling Bibles
have become all the rage lately. So many women are decorating theirs as they focus on God's Word. I have never been extremely artistic and tend to use words as my medium instead of color and lines. Last year I bought a journaling Bible for myself to record my journey to healing. As I have come across verses that have helped me understand what I went through, move towards forgiveness, and discover God's love for me again I have highlighted them and wrote about them. This activity has greatly helped me stay focus on what God wants me to learn from my experiences. It has also provided a look into the process of healing I have gone through. Here's a look at some of what I have journaled with certain verses...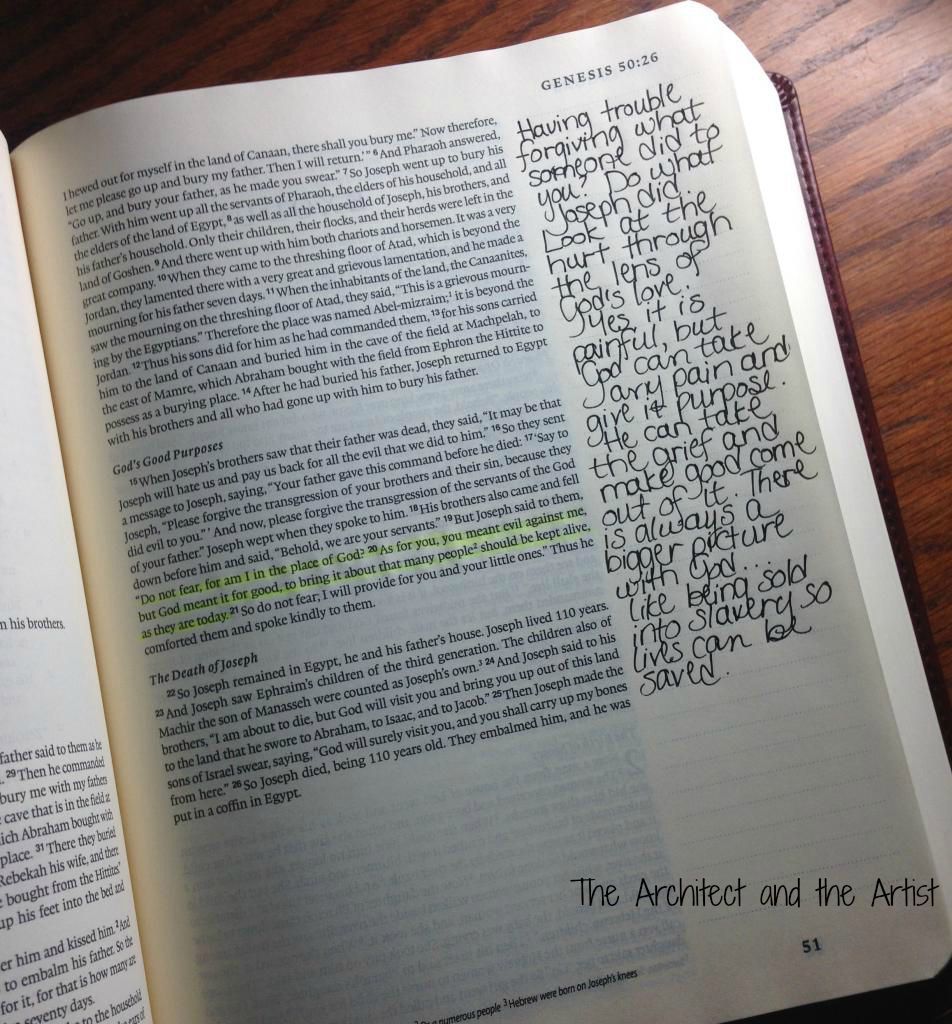 But Joseph said to them, "Do no fear, for am I in the place of God? As for you, you meant evil against me, but God meant it for good, to bring it about that many people should be kept alive, as they are today. Genesis 50:19-20
Lord, it is my prayer that what happened between me and my "enemies" will bring about good in our lives and bring you glory.
And Moses said to the people, "Fear not, stand firm, and see the salvation of the Lord, which he will work for you today. For the Egyptians whom you see today, you shall never see again. The Lord will fight for you, and you have only to be silent. Exodus 14:13-14
Sometimes the hardest part of the battle is to be still and at peace as He works. He knows what He is doing even if it looks like a disaster. Maybe when things are falling apart they are actually falling into place.
Be strong and courageous. Do no fear or be in dread of them, for it is the Lord your God who goes with you. He will not leave you or forsake you. Deuteronomy 31:6
We do not need to fear those that we don't want to face, because God will never forsake us.
Oh, God, in you I trust; let me not be put to shame; let not my enemies exult over me. Indeed, none who wait for you shall be put to shame; they shall be ashamed who are wantonly treacherous. Psalm 25:2-3
The shame is not in being rejected by others. The shame is when we don't make our relationship with God important. Our real shame doesn't come from people's rejection of us, but instead from our rejection of God.
But Jesus, aware of this, said to them, "Why do you trouble the woman?" Matthew 26:10
God is our defender when others accuse. We don't need to always rise up to defend ourselves.
Return to your stronghold, O prisoners of hope; today I declare that I will restore to you double. Zechariah 9:12
We can have hope because He restores what we have lost. Prisoners of hope...I want to be chained to hope.
So what do you need to use a journaling Bible this way. Here is what I use...
ESV Single Column Journaling Bible
Pen Set, Black
Eco Highlighter Pencils
Here is another post
on using a journaling Bible to assure yourself of His love for you.
To read more of the series 31 Days of Hope and Healing,
click here
.