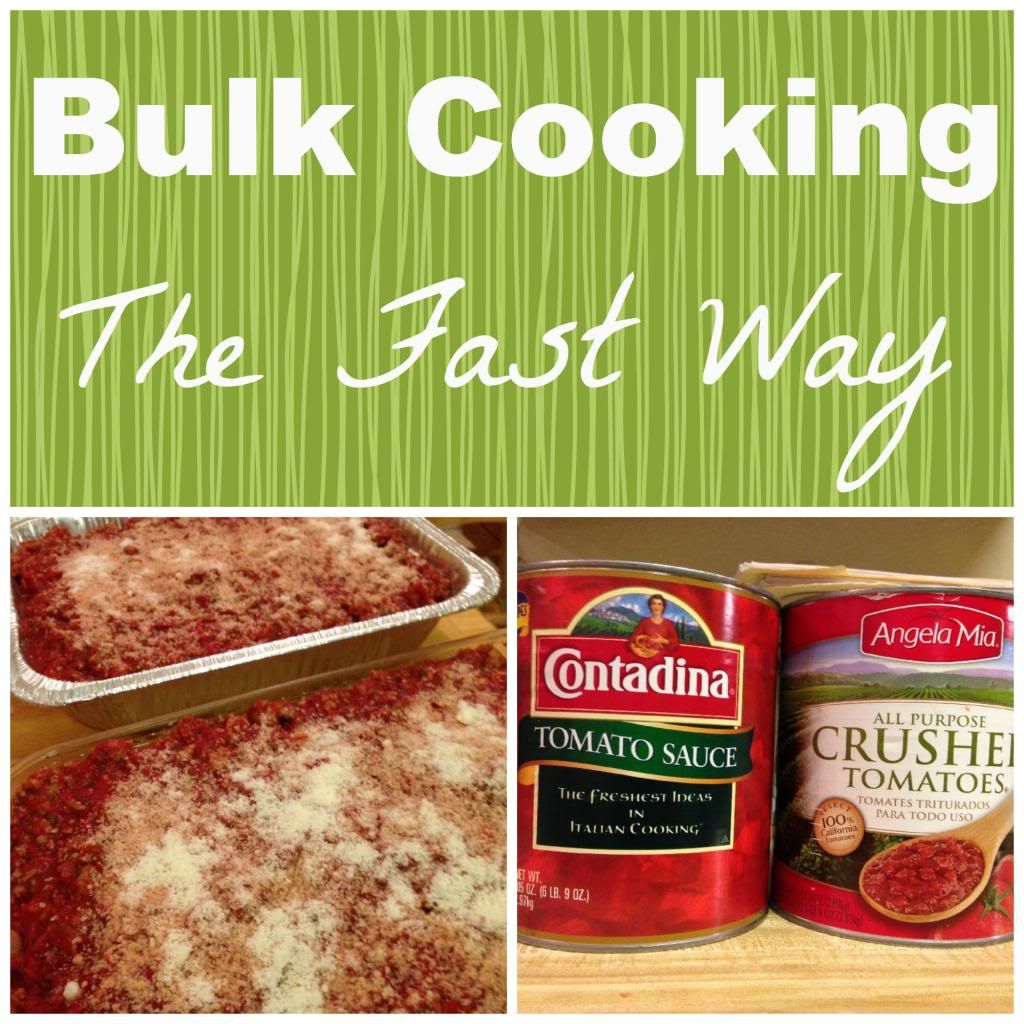 Earlier this week I made eight meals to freeze in about two hours (not counting clean-up which my younger son did). It is probably the fastest I have ever done that many meals. After I was done I was pondering why it was so quick. I have been sick with some kind of nasty virus that has manifested as a chest cold with a ton of coughing. This week I am better, but tired. So needless to say, I was not on my game when I was cooking and yet it was still quicker than what it has been in the past. I finally realized the catch...I was using two main ingredients (hamburger and tomatoes) for the four recipes that I doubled to make eight meals.
I bought a can (about 6 lbs.) of tomato sauce, a can (also 6 lbs) of crushed tomatoes, and ten lbs. of ground turkey (was cheaper than beef). I was able to cook the meat in bulk and then separate it into the different meals. Here are the recipes that I used...remember that I doubled each recipe.
Lisa's Lasagna
(This is the best lasagna I have ever tasted!)
1 lb. ground beef
1/2 cup chopped onion
1 clove garlic, minced
1 16 oz can diced tomatoes
1 8oz can tomato sauce
1 6 oz can tomato paste
2 t. dried basil
1 teaspoon salt
8 oz lasagna noodles (Don't use the no-boil ones)
1 T. oil
2 eggs
2 1/2 cups ricotta
3/4 cup grated Parmesan
2 T. dried parsley flakes
1 lb. mozzarella, thinly sliced
Cook meat, onion and garlic til the meat is browned. Drain. Stir in the undrained tomatoes and next 4 ingredients. Cover and simmer 15 min. DON'T cook the noodles. No need...especially if you freeze the lasagna to eat later. The thawing helps soften the noodles. Or you can add a bit of water (1/4 cup) over the lasagna before baking to soften the noodles. Beat eggs; add ricotta, 1/2 cup Parmesan, the parsley, 1 t. salt and 1/2 t. pepper. Layer half of the noodles in a 9 by 13 pan. Spread with half of the ricotta filling. Add half of the mozzarella cheese and half of the meat sauce. Repeat layers. Sprinkle with remaining Parmesan. Bake in 375 degree oven for 30 min. until heated through. Let stand 10 min.
Sour Cream Noodle Bake
1 lb. hamburger
1 can (15 oz) tomato sauce
1/2 teaspoon salt
black pepper
8 oz. (weight) egg noodles
1/2 cup sour cream
1 1/4 cup small curd cottage cheese
1/2 cup chopped onions
1 cup grated sharp cheddar

Preheat the oven to 350. Brown the hamburger, drain the fat and add the tomato sauce, salt and pepper. Stir and then simmer while you prepare the rest. Cook egg noodles until al dente. Drain and set aside. Combine sour cream and cottage cheese. Add pepper and then the noodles and onion and stir. To assemble: add half of the noodles to the baking dish. Top with half of the meat mixture, then sprinkle on half of the cheese. Repeat the layers. Bake for 20 minutes or until cheese is melted.
Meatloaf
2 lbs. ground turkey or beef
tomato sauce to moisten the mixture (1/3 cup give or take)
2 eggs
1 envelope onion soup mix
3/4 cup break crumbs or I use a box of
crushed Glutino Gluten Free Crackers
Mix all ingredients together. Form into a loaf and freeze in a gallon Ziploc. To serve, pull out of bag and put in a 9 by 13 pan. Thaw a bit in the fridge. Bake uncovered 1 hour or until done. It should be 170-180 degrees on the inside when done.
In the end I had some tomato sauce and crushed tomatoes leftover. I mixed them together and then added onion, garlic, basil, oregano, thyme and a bit of sugar. Mix it together and froze it. Easy marinara. Buying the tomato sauce and crushed tomatoes this way was a HUGE savings! I paid a little under $4 for each can. If I had bought smaller cans I would have spent so much more. So not only did I save time...I saved money!