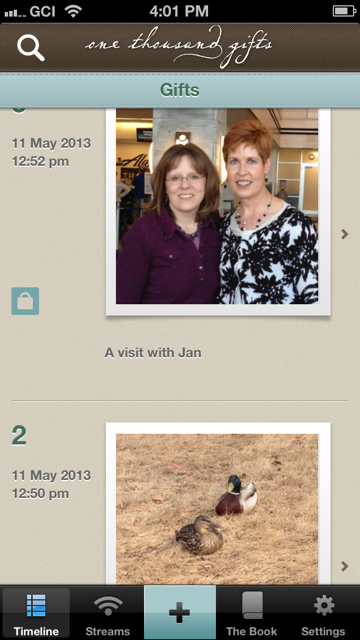 For years I carried around a small notebook to make lists. Lists of the gifts God has given me. Since October 5, 2009, I have been counting God's graces. It has changed my life. My perspective has changed. Feeling sorry for myself, holding onto grudges, and negative thinking has gone more by the wayside day by day as I count. This idea of counting graces comes from
Ann Voskamp
and her book,
One Thousand Gifts: A Dare to Live Fully Right Where You Are
.
I recently got an iPhone and no longer have to carry around a small notebook to record gifts. As they say, "There's an app for that." The
1,000 Gifts app
allows you to take pictures of your gifts and/or record them on your phone. There are also quotes that pop up in the morning to inspire and the ability to share your gifts on Facebook, Twitter and Flickr.
Whether you carry around a notebook or use the app, counting God's gifts to you is life-changing! I highly encourage you to give it a try!