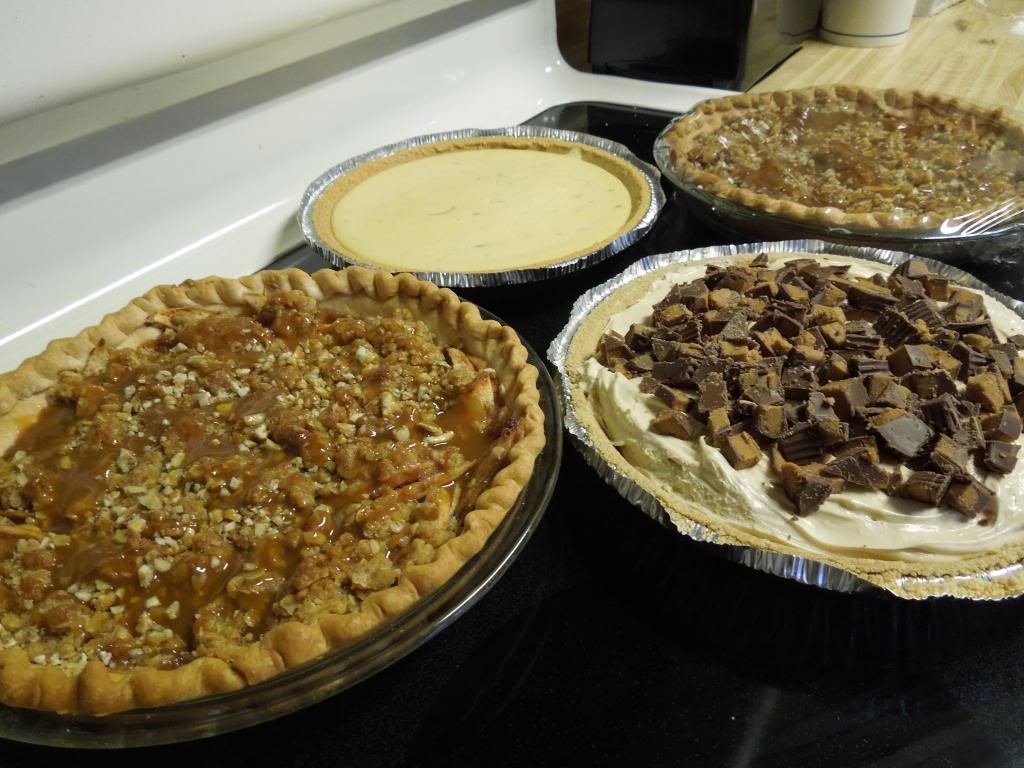 This past weekend we celebrated our oldest son's birthday (I can't believe that he is sixteen!!!). Instead of cake, he decided he wanted pie. I was thrilled as cake is more work in my book (Note: I don't make my own crusts so that is why I consider pies easier). So I made three pies: key lime, peanut butter, and caramel apple.
Here are the recipes:
Peanut Butter Pie
1 graham cracker pie crust
1 (8oz) package cream cheese
1/2 cup peanut butter
1 cup powdered sugar
1 T. vanilla
1 (8oz) carton of Cool Whip
Make sure the cream cheese is at room temperature. Mix all ingredients together and pour into pie crust. If desired, chop Reese's peanut butter cups and put on top or drizzle melted chocolate chips on top. Refrigerate for at least four hours before serving.
Key Lime Pie
1 graham cracker crust
4 t. grated lime zest
4 egg yolks
1 (14 oz) can sweetened condensed milk
1/2 cup fresh lime juice
Preheat oven to 325. Whisk the lime zest and egg yolks together in a medium bowl for 2 minutes (I used my Kitchen Aide). Whisk in the sweetened condensed milk, then the lime juice. Let set a few minutes for the filling to thicken. Pour filling into the crust. Bake until the center is set, yet wiggly when jiggled, about 15 minutes. Cool at room temperature and then refrigerate at least three hours.
Caramel Apple Pie
-- A little bit more work, but worth it! Better than normal apple pie!