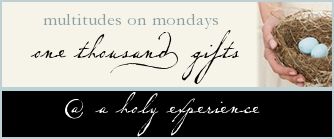 {2,977-3,001}
-A beautiful full moon
-Whom Shall I Fear by Chris Tomlin
-Listening to the story of Darlene Diebler Rose
-The support of others during hard times
-Working with my students
-Getting to see a baby girl walk for the first time!
-Warm buildings
-Diet changes that are doable
-Scarves
-Hats
-Mittens
-Clean sheets
-The pressures that polish us
-Psalm 16 (speaking to me this week)
-A rest from work
-A biology lesson from the boys' grandpa
-Naps that I have been able to take lately
-Reading
Dorie: The Girl Nobody Loved
(what a powerful story!!)
-Gluten Free muffin recipe that actually tastes better than the wheat ones!
-Brutally cold weather that makes me thankful for a warm house
-Dark chocolate and cherries
-People who step up to help
-Growing relationships
-42 years of life
-Rea

ch

ing

3

,000 gifts!!!!!!