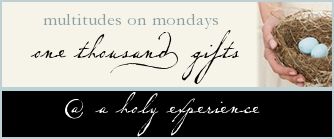 {1,436-1,448}
Peace that all will work out well
Doing a geocache with the boys
A clean house
Grief that teaches us the hard lessons
Time to get Sunday School lessons ready
Date nights
Warm days
Plants
A son that has helped out tremendously with housework
Noah's recital
The story of Abigail and Nabal (I Samuel 25)-just realizing that Abigail is like Jesus...playing the part of mediator.
Doing Bible studies from one of my former high school teachers, Fran Sciacca.
God's protection while the boys and their friends were out riding bikes. They had a couple of accidents, but only a few scrapes. Could have been worse!