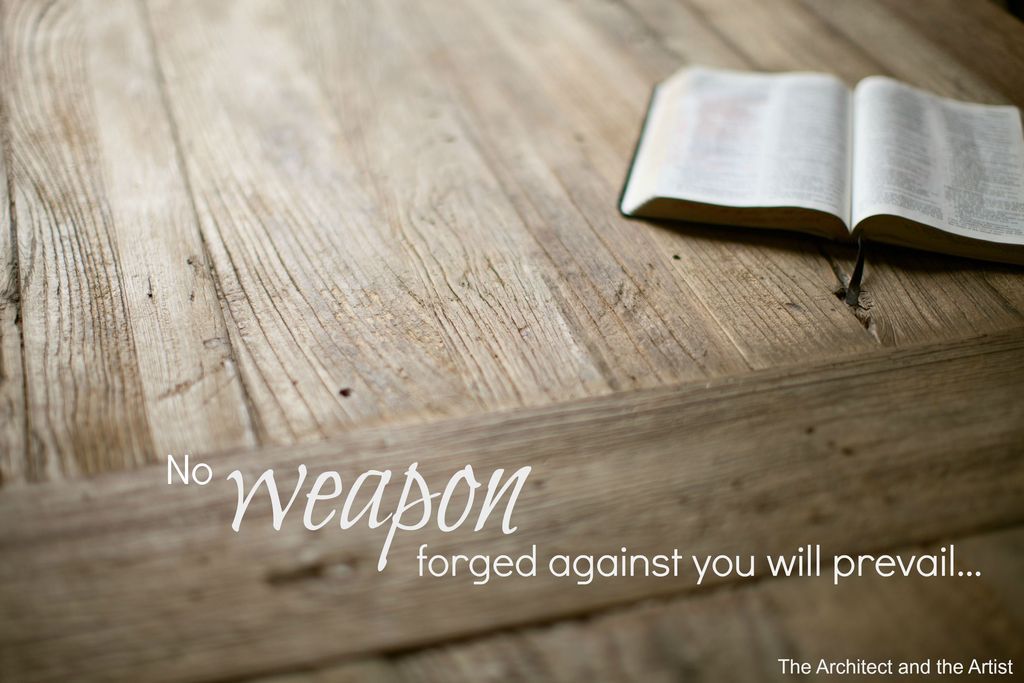 "See, it is I who created the blacksmith who fans the coals into flame and forges a weapon fit for its work. And it is I who have created the destroyer to work havoc; no weapon forged against you will prevail, and you will refute every tongue that accuses you. This the heritage of the Lord, and this is their vindication from me," declares the Lord. Isaiah 54:16-17
There are times when we need to be reassured that God is in totally control because life is out of control. There is a peace that comes from seeing how He fits the pieces of our lives together especially when we have fallen to pieces. We also need to know that whatever or whoever rises up against us in the end won't win.
A few weeks ago I was finishing up
doing a Bible study
when I came across the above verses. I was shocked to read "I who have created the destroyer to work havoc". It hit me that the grief I have dealt with in regards to relational angst God had a part in. He created the people who would reject and condemn me. He allowed the relational "climate" around me to become a perfect storm. He allowed all of it to happen in His sovereignty only to show me...
it would not prevail!
What hope can be found in knowing that He is in control even in the "ick" of life. Yes, He allows situations to arise that we call trials.
Trials to God are only the training ground to strengthen a soul.
He knows we need hardship to grow. So in His love He allows the grief to come and the pain to press into us all in the hope of changing who we are. The weapons won't win if we become more like Him.
Are you struggling in life right now? Do you feel like life's circumstances are weapons being used against you? Or maybe there are people around you that are welding those weapons? Know that in the end if you stay the course those weapons will only serve to make you stronger.
Need more Verses of Hope?