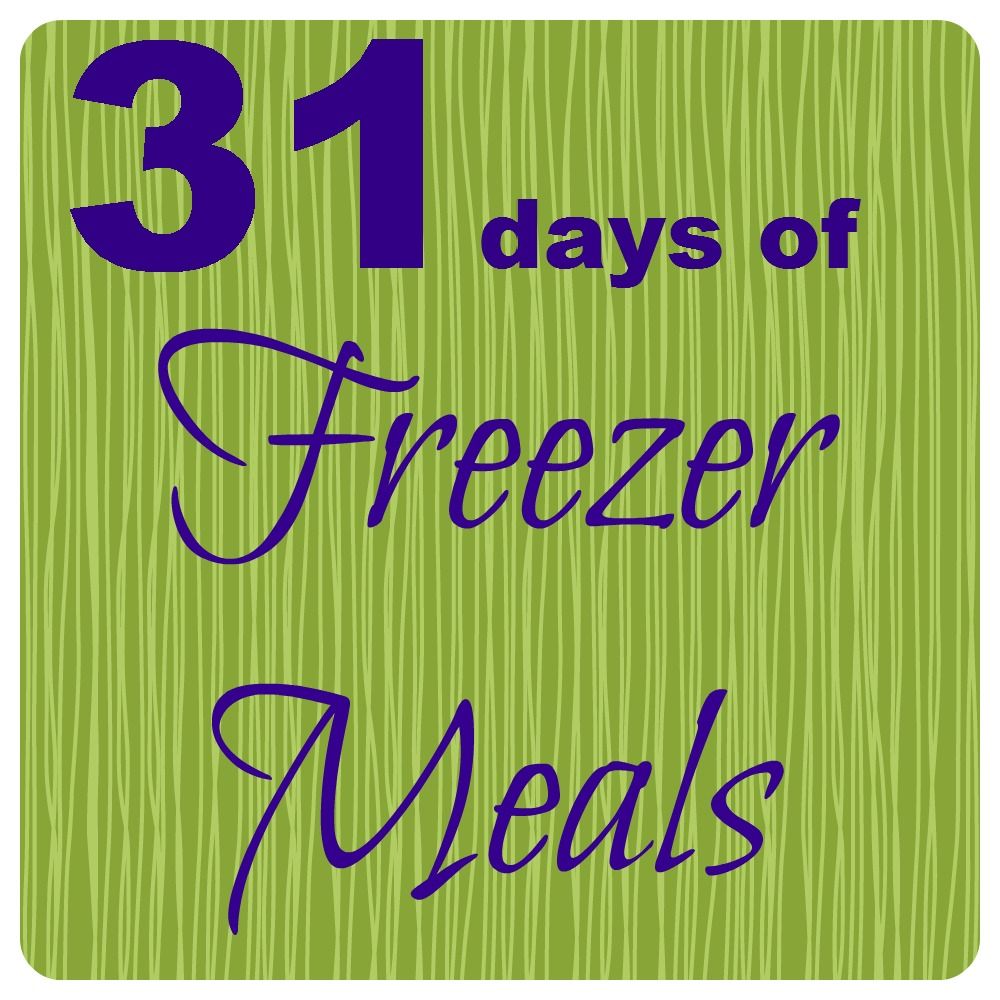 Over the years, I have come to rely on a few recipes that I know everyone in our family will love. Not that I don't try some new recipes here and there, but it always helps to have some "freezer favorites" ready to go. Here are ten different recipes t

hat we love!
Baked Sweet and Sour Chicken
The chicken coating:
3-4 boneless chicken breasts
salt + pepper
1 cup cornstarch
2 eggs, beaten
1/4 cup canola oil
The sweet and sour sauce:
3/4 cup sugar
4 tbs ketchup
1/2 cup distilled white vinegar
1 tbs soy sauce
1 tsp garlic salt
Start by preheating your oven to 325 degrees. Rinse your chicken breasts in water and then cut into cubes. Season with salt and pepper to taste. Dip chicken into the cornstarch to coat then dip into the eggs. Heat your 1/4 cup oil in a large skillet and cook your chicken until browned but not cooked through. At this point, place chicken on a plate to cool. Bag chicken and freeze. Make sauce, put in a separate container from the chicken and freeze. On serving day, thaw chicken a bit. Place the chicken in a 9x13 greased baking dish. Mix all of your sweet and sour sauce ingredients in a bowl with a whisk and then pour evenly over the chicken. Bake for one hour and during the baking process you will need to turn the chicken every 15 minutes.
Lisa's Lasagna

1 lb. ground beef
1/2 cup chopped onion
1 clove garlic, minced
1 16 oz can diced tomatoes
1 8oz can tomato sauce
1 6 oz can tomato paste
2 t. dried basil
1 teaspoon salt
8 oz lasagna noodles
1 T. oil
2 eggs
2 1/2 cups ricotta
3/4 cup grated Parmesan
2 T. dried parsley flakes
1 lb. mozzarella, thinly sliced

Cook meat, onion and garlic til the meat is browned. Drain. Stir in the undrained tomatoes and next 4 ingredients. Cover and simmer 15 min. Meanwhile, cook noodles til tender in boiling salted water with oil added to the water. Drain and rinse noodles. Beat eggs; add ricotta, 1/2 cup Parmesan, the parsley, 1 t. salt and 1/2 t. pepper. Layer half of the noodles in a 9 by 13 pan. Spread with half of the ricotta filling. Add half of the mozzarella cheese and half of the meat sauce. Repeat layers. Sprinkle with remaining Parmesan. Bake in 375 degree oven for 30 min. until heated through. Let stand 10 min.
Jambalaya
1 ½ lbs boneless skinless chicken breasts, cut into bite-sized pieces, cooked
2 T. olive oil
2 bunches scallions, white and green parts, chopped
1 bell pepper, chopped
2 garlic cloves, pressed
1 cup cooked brown or white rice
2 cups chicken broth
1 (14 oz) can diced tomatoes
Salt
Pepper
Heat olive oil in large pot. Saute scallions, bell pepper, and garlic. Cook til softened. Add broth and tomatoes and chicken and bring to a boil. Salt and pepper to taste. Simmer. Cool and place in Ziploc gallon freezer bags. Label. On day of serving, thaw and simmer in a pot. Add the cooked rice. NOTE: You don't want to add the rice before freezing. It will absorb too much liquid. ANOTHER NOTE: You could also add some shrimp to this.
Spring Veggie Soup with Dill Dumplings
2 T. butter
3 stalks celery, sliced
2 carrots, chopped
3/4 cup green onion, sliced
1 cup asparagus stalks, trimmed and cut into bite sized pieces, cooked crisp tender
6 cups broth
2 cups packed spinach leaves
1/2 t. salt
pepper to taste
Dumplings:
1 cup + 2 T. baking mix
1/3 cup milk
3/4 t. dried dill
In Dutch oven, melt butter; add celery, carrots, green onions, and asparagus. Cook over med. heat until veggies softened (10 min.). Add broth. Cook until mixture comes to a full boil. Lower heat, simmer
for
about
20 min. Add spinach, salt and pepper. Continue cooking 5 min.
We will freeze the soup and on the day of serving add the dumplings. To do this: Stir together dumpling ingredients. Spoon mixture on top to make six dumplings. Cover and cook for about 10 min until dumplings are done.
Green Chili Chicken Enchiladas
3-4 chicken breasts-cooked and chopped
Corn tortillas
¼ cup margarine/butter
¼ cup flour
2 cups chicken broth
1 cup sour cream
2 cups Monterey Jack cheese
½ of a 4 oz can chopped green chilies
¾ cup chopped onion
Melt butter. Blend in flour and chicken broth. Cook until it thickens. Blend in sour cream. Don't boil. Pour enough sauce to cover the bottom of 6x10" pan. Mix 1 ½ cups of the cheese, onion, chilies, and chicken in a bowl. Use this mixture to fill the tortillas. Roll tortillas and place seam side down in the pan. Pour sauce over all. Bake at 350 for 45 minutes. Sprinkle remaining cheese on top and bake 15 minutes longer.

If you are feeling lazy…you can always do the enchiladas in layers instead of rolling them. I do sauce, tortillas, filling, more tortillas, and more sauce.
Creamy Burrito Casserole
Brown the meat with the onions and add the taco seasoning. Mix the beans and meat together. In another bowl mix the sour cream and the soup. In a baking dish, spread the sour cream mixture on the bottom. Put down a layer of tortillas. Add a layer of the meat mixture. Sprinkle on a layer of cheese. Repeat the layers. Bake at 350 until heated through. You can serve it with shredded lettuce and chopped tomatoes.
Barbecued Orange Chicken
This is super easy and yummy! I have to admit that I don't use set amounts for the sauce, but it always turns our great.
1 small bottle Italian dressing
Mix together the sauce. When ready to cook the chicken, marinate it in the sauce for a few hours in the fridge. You can either bake or grill the chicken.
Taco Soup
1 lg. can crushed tomatoes
1 can corn with juice
1 can black beans, don't drain
1 can kidney beans, don't drain
1 can pinto beans, don't drain
1 pkg. dry Ranch dressing mix
1 small onion, chopped
1 pkg. taco seasoning
tortilla chips
shredded cheddar
Mix all the ingredients except the chips and cheese. You could also add a pound of cooked ground beef. Bag and freeze. To serve, put in a crockpot and cook on low for 4 to 6 hours. Serve with chips and cheese.
There are some bake goods that we love that hold up well to freezing. No all baked goods do well with freezing, but these do! It is worth the effort to double or triple the recipes.
Pumpkin Chocolate Chip Muffins
1/2 cup oil
4 eggs3 cups flour
2 cups sugar
1/2 t. cinnamon
1/2 t. sal
2 t. baking soda
1 small can pumpkin
12oz. semi-sweet chocolate chips (mini chips work best)
Preheat oven to 350. Beat eggs and sugar. Mix in rest of ingredients. Bake for 20 min. I normally make mini muffins out of this.


Sour Cream Banana and Berry Bread
1 cup butter, softened
2 cups sugar
4 eggs
1 t. salt
1 t. vanilla
2 cups mashed banana
4 cups sifted flour
2 t. baking soda
1 cup sour cream
2 cups cranberries (frozen works best)
Beat butter until soft. Add sugar, eggs, salt, vanilla, and bananas and blend together. Add dry ingredients alternating with sour cream. Blend well after each addition. Fold in cranberries. Bake at 350 in greased a floured pans. Do not
overbake
. Bread in small pans will bake in about 40 minutes. Bread in large pans will bake in about 60 minutes.